What Bedminster Green is, why we're developing this area and what the development project involves.
Find information, news and updates on the Bedminster Green regeneration project or sign up to our newsletter.
About Bedminster Green
Bedminster Green is a development area made up of five sites (plots) that are being redeveloped to provide housing and mixed use schemes.
In 2019, we produced a roadmap for how development should happen in Bedminster Green in the pdf Bedminster Green Framework (14.48 MB) .
It sets out what kind of housing should be built, where it should be built, and what services and amenities those homes would need.
The framework also details how these homes should be connected to their surroundings by local bus and cycle routes, green spaces, and the low-carbon district heat network.
You can see more detail of the 5 development plots and where they are on this map of the development area.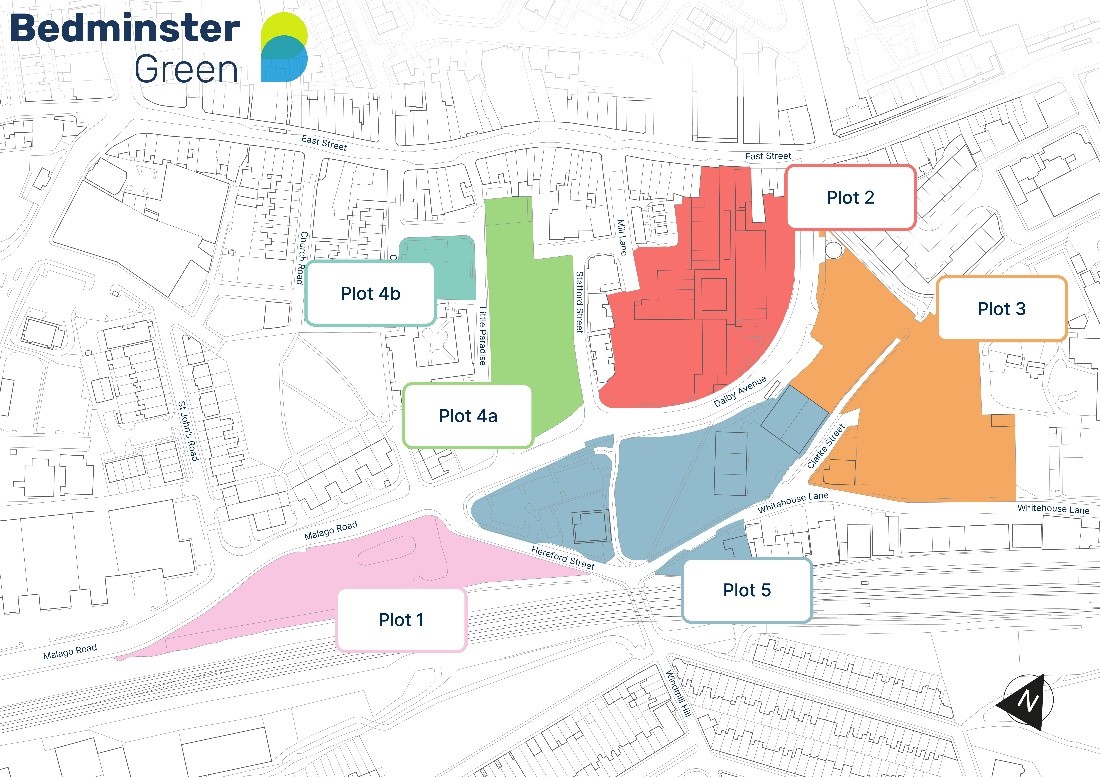 Why we're developing Bedminster Green
We're developing Bedminster Green because:
it gives us the opportunity to build much-needed homes, Bristol is a fast-growing city and needs new homes
it's at walking distance to the city centre, the new Temple Quarter, and close to local jobs, shops and amenities
the area was fragmented, houses at Windmill Hill and the open green space at Victoria Park were split from Bedminster's town centre and East Street by car parking and industrial sites
it has excellent public transport links, including MetroBus services, Bedminster train station and bus routes to Bristol Airport and to the city centre, helping people travel more sustainably
regenerating the area is an opportunity to revive Bedminster's historic high street, East Street, and support local businesses and employment
What the development project involves
The Bedminster Green development project involves:
building a mix of new housing
restoring the River Malago
enhancing public spaces
improving local public transport
making walking and cycling easier and safer
installing a low-carbon district heating network
Benefits of the project
The regeneration of Bedminster Green is an opportunity to revitalise the area. It will breathe life into the local economy, while providing much-needed homes as part of a sustainable, well-connected, healthier new neighbourhood in the south of Bristol.
Benefits of the project include:
a range of new homes, in a mix of:

affordable housing
private rented homes
homes for sale
student accommodation

new and improved pavements and cycle lanes, so that everyone can enjoy active travel safely and easily, reducing car use and emissions
better public transport, proposals include new bus lanes and bus stops along the A38/Dalby Avenue
a revitalised local economy, including East Street, by bringing new people to the area and better connecting homes in Windmill Hill with Bedminster's shopping areas
restoration of the River Malago, which will improve wildlife, flood defence and public spaces in the area for all to enjoy
opportunities for apprenticeships, employment and training targeted at school leavers and young people not in employment, education or training
reducing local carbon emissions
Who is managing the developments
Each of the 5 development sites at Bedminster Green is owned and managed by a different developer, except plots 4b and 5 which are owned by the council and being brought forward by its development partner. The plots are at different stages of development.
The developers are:
Each development plot is at a different stage. As plans progress, the developers are making planning applications. You can comment on the planning applications, using the reference numbers above, on Bristol's online Planning Portal.
To find out more about each plot, visit the developers' websites.
Transport and district heating improvements
Works to improve travel and to install a District Heat Network started in January 2022. This involves temporary changes to the road network as we make public transport, walking and cycling easier.
Once complete, improvements will include:
a new continuous bus lane towards East Street along Malago Road and Dalby Avenue (A38)
improved pedestrian and cycle crossings
new and improved cycle lanes
improvements to public spaces, including wider footpaths and increased planting
highly insulated pipework within the highway, ready to export heat from sustainable generation sources to homes and businesses in the area
These changes were consulted on in early 2021, with high levels of public support for the proposals. You can read the consultation report Go to https://bristol.citizenspace.com/development-of-place/bedminster-green-consultation/user_uploads/bedminster-green-consultation-report-march-2021---transport-proposals-v5.pdf (opens new window) online.
To find out more about the District Heat network and how it supports our ambitions to be a carbon neutral city by 2030, visit Heat Networks - Energy Service Bristol Go to https://www.bristolcityleap.co.uk/heat-networks/ (opens new window).
Free travel support
You can get help to travel more actively and sustainably around the area. We offer:
personalised travel planning
a borrow a bike scheme
tailored cycle training
basic bike maintenance courses
bus taster tickets
information on scooters, car clubs and car sharing schemes
Visit the Travelwest website for:
Restoring the River Malago
The River Malago flows through three of the five development plots that make up Bedminster Green. Currently, the river is largely out of sight and provides a poor quality habitat for nature.
The Bedminster Green river restoration proposals include creating natural habitats, building new public and green spaces and restoring the existing character of the area, while reducing flood risk.
Our proposals will enhance biodiversity and improve the natural environment in a largely urban area by:
bringing the river back above ground through Bedminster Green
replacing dilapidated channel walls with more natural grass sloped embankments, planted with a range of vegetation
introducing more diverse habitats in channel with alternating channel sections of faster and shallower then slower and deeper water, alongside permeant in-channel woody debris features and a wetland area
making the channel narrower to improve the speed of flows to prevent stagnation
The proposals will provide improved green and public spaces by:
creating a new seating area for people to use in the Green, overlooking the newly emerged river
improving access to the riverbanks through an accessible path and boardwalk structure
Flood risk in Bedminster will be reduced by:
lowering some ground levels in the green to create a submergible area that would fill with water in the event of flooding
installing a trash screen (metal grid of bars) across the entrance to where the river goes back underground under East Street to trap any debris and prevent blockage and backing up of water in this pipe
The character of the area will be preserved and enhanced by the following improvements to existing structures of heritage value:
restoring a dilapidated penstock (a metal sluice gate signifying Bedminster's industrial past)
repointing and repairing remaining historic channel walls
These changes were consulted on in early 2021, with high levels of public support for the proposals. See further detail on the results of the public consultation at Bedminster Green River Restoration and Transport Consultation Go to https://www.ask.bristol.gov.uk/bedminster-green-river-restoration-and-transport-consultation?tool=news_feed (opens new window).
Contact
If you have any questions or comments on the Bedminster Green regeneration project: